from my window – DiscJoker (aka Giuliano P) – REK001
From my window
Electrobeat dreamy cut on a vibrant bass base.
"What happened when I looked out my window.Inside samples from Rome, my wonderful town."
Thanx to Anna, Bianca e Ferni "myLove", to Giulio the teacher, to Rosa Tosto for the Master, Mela, Valerie, Roma, via Merulana & via Mecenate, the dopingS, Ableton, Maschine, my bass guitar, silence & my special thanx to the Music.
Cover & Photo by Giuliano P.
Composed & Arranged by Giuliano Palombo – DiscJoker
Appena uscita ha incontrato subito il gradimento dello staff di Steve Lawler (Viva Music, 8bit, Be As One, Boxer Recordings, Hot Creations).
Feedback:
– beautiful stuff! (Jamie Stevens / Bedrock, Chameleon Records, Get Physical Music, Sudbeat)
– Nice summer vibes, thanks. (Noah Pred / Thoughtless, Biotop, Highgrade)
– Trippy. I like it (Britt Lyle / Scad Atlanta Radio)
– Cool track. Will try & Support. (Laurent N. / Atavisme, House Nation Radio)
– On promo Chart (Nori / Extra Music New)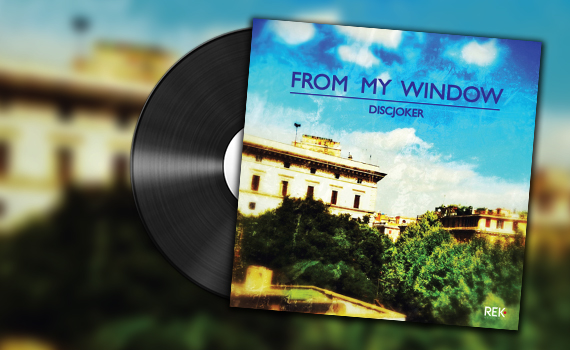 ---